Greetings in the Mighty Name of our Lord, Jesus the Christ!
Devotionals are books made up of daily readings containing Christian testimony or teaching along with a Bible verse. Listed below are valuable tools for the growing Christian to focus on each day.
BIBLE READING ADVENTURE
Welcome to this month's Bible Reading Adventure!
The Gospel of Luke
This month we are in the Book of Luke. Luke was a physician who became a missionary traveling with the apostle Paul. Luke provides a more complete account of Jesus' birth, ministry, teachings, death and resurrection than any of the Gospels. Luke portrays Jesus as the long-awaited Messiah, the Savior of the whole world, a friend to all people. Luke 19:10 says "For the Son of man came to seek and to save that which was lost." It is good to know that God loves and cares about us. That He looks after us wherever we may be. And He shows us the way to true joy and peace. Praise God!
OUR DAILY BREAD
Our Daily Bread Ministries helps millions of people connect with God each day for more than 75 years.  Their purpose has remained the same: to reach people with the life-changing wisdom of the Bible.
Our Daily Bread Ministries is here to help you deepen your relationship with the Lord through resources that speak to everyday issues of life.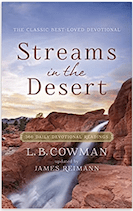 STREAMS IN THE DESERT
A famous Christian book of devotions for 365 days first published in 1920 and has been frequently revised. It is available as a phone app through Apple Store or Google Playstore, and a printed book can be purchased through Amazon and at other Christian bookstores.