Greetings in the Mighty Name of our Lord, Jesus the Christ!
Devotionals are books made up of daily readings containing Christian testimony or teaching along with a Bible verse. Listed below are valuable tools for the growing Christian to focus on each day.
BIBLE READING ADVENTURE
1 & 2 Thessalonians, 1 & 2 Timothy, Titus
This is going to be an exciting month as we journey through the five "T" Books of the Bible. In these books, we are blessed by the wisdom and revelation presented by Paul, one of the greatest church leaders in all history. Paul's two letters to the Christians in Thessalonica remind us of the hope that we have in Christ's return, enabling us to live each moment in joyful expectation. Then, Paul teaches us through his letters to Timothy and Titus, what spiritual leadership is all about. For those who want to do it right, these books are a must read. Enjoy!
OUR DAILY BREAD
Our Daily Bread Ministries helps millions of people connect with God each day for more than 75 years.  Their purpose has remained the same: to reach people with the life-changing wisdom of the Bible.
Our Daily Bread Ministries is here to help you deepen your relationship with the Lord through resources that speak to everyday issues of life.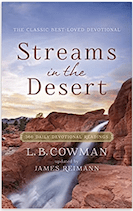 STREAMS IN THE DESERT
A famous Christian book of devotions for 365 days first published in 1920 and has been frequently revised. It is available as a phone app through Apple Store or Google Playstore, and a printed book can be purchased through Amazon and at other Christian bookstores.